Accidental Humour Co will once again be participating in Battle for the Limelight as part of their annual fundraiser.  The date is set for Sept 9th @ 1PM.  Our goals are $1500 lump sum donations and $150 in continual monthly donations. To support our team (Accidental Avengers) donate by clicking here:
Any donation of $20 of more will receive a $10 gift certificate for Famoso – so be sure to  leave us your mailing address on check-out so we can get you some tasty za!
But wait there's more!
The battle for the Limelight is an amazing trial in and of itself, but we at Accidental think its even more fun if we make additional challenges for ourselves. So… if we reach our goal this year we will add the extra challenge of tricycles. That's right TRICYCLES! Here's how it will go down:
If we hit $1000 – 2 racers must ride children's tricycles all race
If we hit $1500 – all 4 racers must ride children's tricycles all race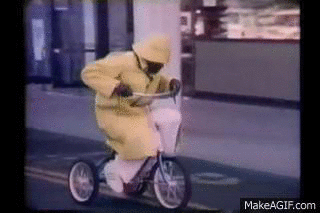 4 Adults riding children's tricycles… believe us when we say this will NOT be an advantage to winning this race, but it should provide some quality entertainment for your viewing pleasure! How entertaining? Just check out last year's race below!
Monthly Subscribers
If you're looking for another way to support us and want to join the exclusive club of Accidental Humour super fans, consider a monthly Patreon donation. As little as $3/month gets you in the club, but for a few dollars more you'll get exclusive access to Accidental Humour videos and behind the scenes before anyone else as well as some fabulous sign-up swag! Click here for more details:
We hope you are able to support us in funding our future projects and keeping the Accidental Humour Co dream alive!
2016 Battle For the Limelight Highlights
Thank you everyone from the bottom of our hearts for your generous support fundraising for the he 3rd annual Battle for the Limelight.
Because we reached our fundraising goal, the team competed, as promised, with a handicap for each team member, something the other teams thought we were crazy for doing…
Kim Stadelmann, master stage manager, took on the competition practically deaf, Cliff Kelly, the Cowboy himself, competed completely blindfolded, Brent Felzien, the video whiz kid, had to be gagged and silent, and Will Banfield, Jim McCrackin if you're nasty, was not allowed to use his hands to touch anything.
Wish you cold have been there to see it? Well we wanted to take you with us! So we stuck a camera on Willie's Banfield body and recorded some highlights.
Enjoy:

---
And thank you, from the bottom of our hearts.
~AccHum